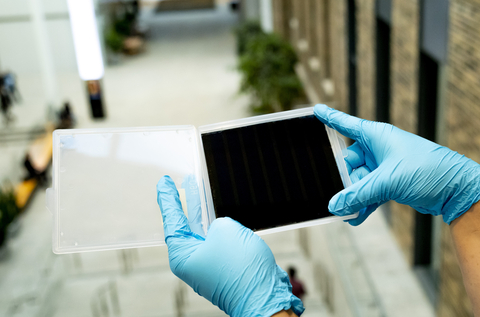 QD Solar Inc. says MKS Instruments has validated the efficiency of its single-junction perovskite cells at 24% for spin-coated cells and 23.2% for slot-die coated, manufacturing-ready cells.
"Deploying low-cost perovskite-based solar will allow our customers – the solar panel manufacturers – to charge premium prices on high-efficiency panels and double their profit margins," says Dan Shea, CEO of QD Solar.
Perovskite photovoltaic materials started with efficiencies around 12% in 2012, measured on small lab-scale solar devices. Since then, companies and research groups around the world have made drastic improvements, culminating in 25+% efficiencies. However, in contrast to other reports on perovskites, QD Solar's 23.2% efficiency was developed for industrial high-throughput manufacturing based on slot-die coating, the company says.
"Our focus on large-scale coating is paying off," says Dr. Sjoerd Hoogland, QD Solar's co-founder and CTO. "These certified numbers demonstrate that QD Solar designed a manufacturing process that not only yields high efficiencies for small lab-sized samples but, more importantly, has been transferred successfully onto coating equipment used for large-scale roll-to-roll production."
"QD Solar's solar sheets are targeted to be drop-in compatible with standard panels, low-cost, lightweight, flexible, with industry-leading power density," adds Dr. Armin Fischer, COO of QD Solar.