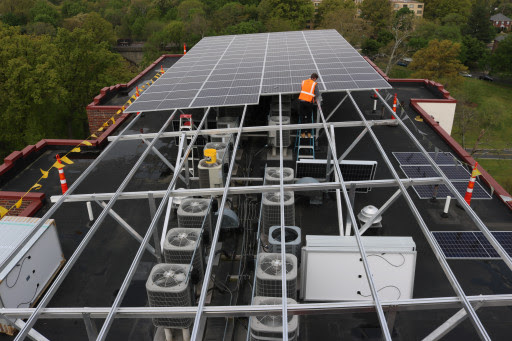 Universal Renewables says it is expanding the availability of its elevated rooftop racking solutions to commercial buildings in Massachusetts, New Jersey and New York.
Headquartered in Washington, D.C., the company offers building-specific design solutions based on a canopy system that allows for an increased number of solar panels on crowded urban rooftops. The patented technology, which is designed to withstand wind loads of 135 mph, is ideal for commercial rooftops where HVAC fans, plumbing vents, skylights and other rooftop fixtures hinder traditional solar technologies, the company says.
"We are pleased to announce our expansion into the Northeast, especially the Boston and New York metropolitan markets, where we see a lot of opportunity to help businesses and municipalities realize their energy performance and conservation goals," says Mark Ballantine, president and founder of Universal Renewables.
"Until now, rooftop solar has not been economically viable for many commercial buildings, and in other cases, not physically possible without replacing entire rooftops. Not only does UR's elevated racking system increase the roof's capacity for solar panels, but it also means that you can access your roof and rooftop fixtures, like HVAC equipment, for servicing without disrupting a single solar panel," he adds.
Universal Renewables has over 45 rooftop solar installations in the D.C. area, with new projects recently awarded in Boston, New Jersey and New York City. The elevated solar solution developed for a project in Burlington, Mass., has been approved by permitting authorities and will be under construction by month's end.