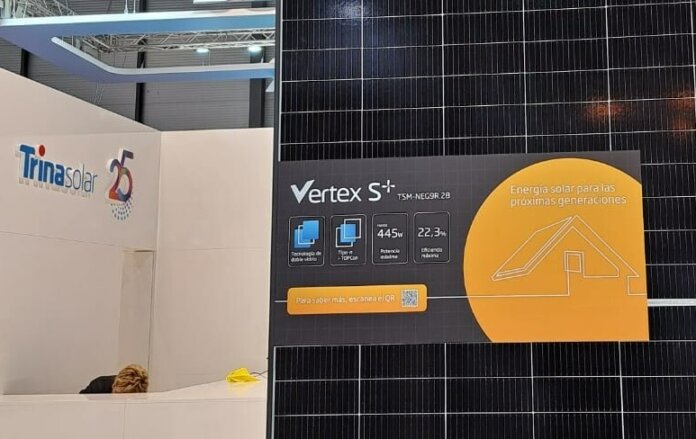 Trina Solar has debuted a new generation of rooftop photovoltaic modules: the Vertex S+ n-type dual-glass product line with output power reaching 445 W.
Trina says Vertex S+ is available in two specifications. The monofacial NEG9R.28 comes with a white rear encapsulant for maximum output power, boasting up to 445 Wp and efficiency reaching 22.3%. In contrast, the transparent NEG9RC.27 is a bifacial module featuring a front-side power of 435 Wp, at 21.8% efficiency. Both types feature a surface area of just under two square meters and a black aluminum frame.
As with all Trina Solar modules, Vertex S+ is based on the 210 mm Vertex technology platform. However, thanks to a shift to n-type i-TOPCon cells, the module can generate approximately 10% extra energy over 30 years compared to its p-type peers. Moreover, n-type cells have a 50% lower initial degradation and an 11% lower annual power attenuation. Both factors combined – higher power and lower degradation – result in a substantially boosted energy yield over the module's lifetime, and improved reliability, the company says.
Trina notes that Vertex S+ is the first rooftop module on the market to feature a robust dual-glass structure, replacing the plastic backsheet with a second layer of glass. The dual-glass design makes the module structure extremely resistant to salt spray, acids and alkalis. Also, glass is a perfect and symmetrical sealant, thus ensuring zero moisture penetration and minimizing stress on the cells.
Vertex S+ is highly compatible with other BOS components, offering a variety of mounting methods, including short side and long side clamping, crossed beam, shared rail and slide-in mounting. Thanks to its short circuit current of 10.7 A, it is also compatible with more than 99% of mainstream inverters in the market.
The modules, which have already entered mass production, feature a power warranty up to 30 years.