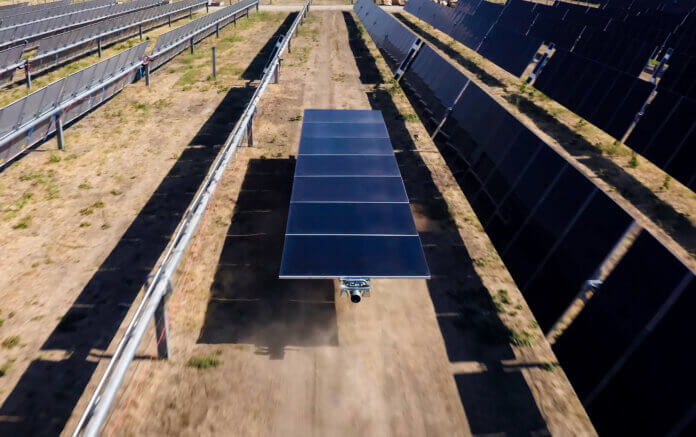 Terabase Energy, a company that provides digital and automation solutions for solar power plants, is launching Terafab, an automated, digital field factory for solar construction.
Terafab says it uses a modern factory approach, increasing installation productivity by a factor of 2x over traditional methods. The Terafab system combines a digital twin of the project site, advanced supply chain and inventory management systems, an onsite wireless digital command center, a field-deployed automated assembly line, and specialized installation rovers into a seamless 24/7 operation.
The company says Terafab's key benefits include the following:
Faster construction: High-throughput, 24/7 operation and modularity enable rapid ramp-ups and higher solar field construction speeds, reducing project schedules;
Improved worker health and safety: Terafab eliminates the physical safety risk of construction workers needing to lift solar panels and steel structures by utilizing automation on a climate-controlled assembly line;
Alleviation of labor shortages: Terafab increases labor productivity by 2x, addressing the solar industry's current labor shortages;
Reduced construction cost: Terafab's installation efficiency and time savings lower overall project costs, enabling a lower levelized cost of energy;
Scalability: The modular design can be replicated and deployed quickly.
"We successfully field-tested Terafab last year, building 10 MW of a 400 MW site in Texas," says Matt Campbell, CEO and co-founder of Terabase Energy. "[This] launch is the next step forward to rapid commercial scale-up."
"Not only does our partnership with Terabase bring advanced installation technology to our next-generation Series 7 solar module, but it also enables a closed-loop packaging recycling system," adds Nick Strevel, vice president, product, at First Solar.
Terabase recently opened its Woodland, Calif., Terafab manufacturing facility – a "factory to make factories," the company says. The Woodland facility is currently manufacturing the first gigawatt  of Terafab assembly lines with a capacity to build more than 10 GW of Terafabs per year.
The Terafab system will be commercially deployed on several projects starting this year.