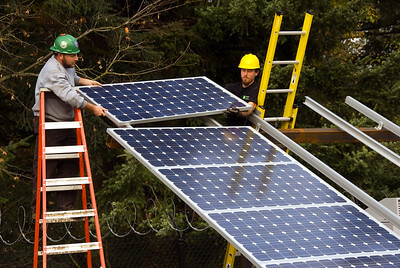 According to the U.S. Solar Market Insight Q2 2023 report by the Solar Energy Industries Association (SEIA) and Wood Mackenzie, the U.S. solar industry just experienced its best first quarter ever, with 6.1 GW of solar capacity installed. Supply chain challenges abating and delayed solar projects resuming largely drove the record quarter.
Due in part to the strong first quarter numbers and a surge in demand resulting from the Inflation Reduction Act (IRA), Wood Mackenzie expects the solar market to triple in size over the next five years, bringing total installed solar capacity to 378 GW by 2028.  
The IRA has also prompted a surge of new manufacturing announcements, with domestic module capacity expected to rise from fewer than 9 GW currently to more than 60 GW by 2026. At least 16 GW of module manufacturing facilities are under construction as of the end of the first quarter of 2023.
This quarter, the Biden administration provided some clarity on how the IRA's adder credits will be applied. The landmark law contains new credits that can be used in conjunction with the solar Investment Tax Credit, like the domestic content, energy communities, and low-income adder credits. In particular, the energy communities and low-income adder guidance will help drive solar and storage investment in underserved communities. 
Despite rising interest rates and economic headwinds causing customer hesitancy, the residential segment installed 1.6 GW of solar capacity in the first quarter of 2023, a 30% increase from the first quarter of 2022. The residential market segment is on track to add 36 GW of solar over the next five years, growing at an average annual rate of 6%. 
The commercial market also had a record first quarter, with 391 MW installed, putting the segment on track for 12% growth in 2023. Meanwhile, the community solar segment installed 212 MW, a 13% decrease from the first quarter of 2022 due in large part to ongoing interconnection challenges. 
The utility-scale market rebounded from a difficult 2022 with a strong first quarter and a record 3.8 GW of installed solar capacity.
By far, Florida was the top solar state in the first quarter of 2023 thanks to 1.46 GW of utility-scale solar installations. Florida installed over 70% more solar capacity in the first quarter than the next highest state, California. 
Due in part to those installations, the solar industry accounted for 54% of all new electricity-generating capacity added to the grid in the first quarter.
Image by Oregon Department of Transportation on Flickr.