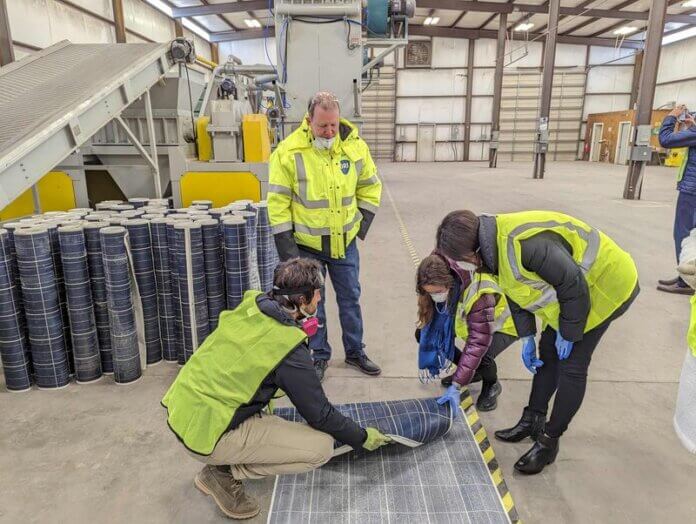 Orsted, a Danish developer, builder and operator of offshore wind farms, has pledged to reuse or recycle all solar panels from its global portfolio of solar farms effective immediately. It is the world's first energy developer to do so.
The deployment of solar energy technology requires vast amounts of virgin materials, the mining of which has environmental and social impacts. Competition to secure access to these materials is also increasing.
Reusing or recycling end-of-life solar panels and bringing the materials back into manufacturing is a key solution is to lower dependency on virgin materials. Such practices are currently limited, and it is still common to bury worn-out panels in landfills. This means that resources with a high value to the green energy transition are simply discarded. 
"We want to create a world that runs entirely on green energy, and we want to do it in a sustainable way," says Ingrid Reumert, senior vice president and head of global stakeholder relations at Orsted. "Addressing the most critical waste problem of the solar industry, while mitigating social and environmental impacts in the supply chain, is essential to doing so. This is an industry-first commitment and complements our already existing ambition to reuse or recycle all wind turbine blades."
Orsted will collaborate with Solarcycle, a technology-based solar recycling company located in Odessa, Texas, to process and recycle Orsted's end-of-life solar panels from its projects across the U.S., one of its main markets.
Solarcycle's recycling facility will extract the valuable resources from panels, including metals like silver, copper and aluminum, and materials such as glass and silicon. The substances will then be refined to make the next generation of newer, higher-efficiency solar panels.
Orsted has been growing its onshore portfolio in the past few years with the goal of reaching 17.5 GW of wind and solar PV capacity for its global onshore portfolio by 2030.