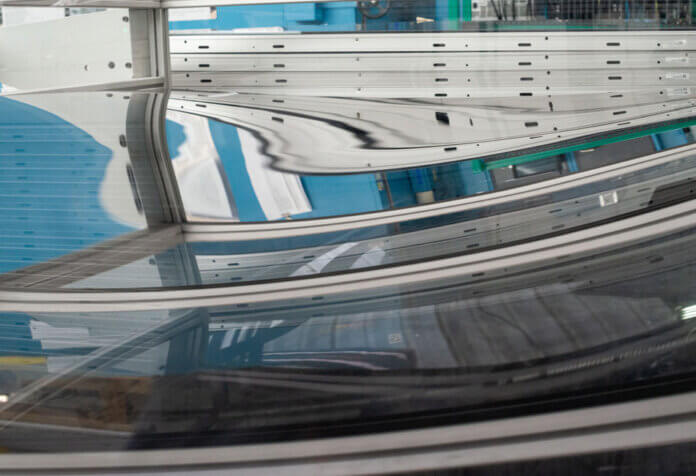 First Solar Inc. is planning a limited production run of the world's first bifacial solar panel utilizing an advanced thin film semiconductor. The fully functional pre-commercial Series 6 Plus Bifacial photovoltaic (PV) module made its industry debut at Intersolar Europe in Munich, Germany.
The module, which is undergoing field and laboratory testing, builds on the track record of First Solar's successful Series 6 monofacial module platform. The module features an innovative transparent back contact, pioneered by First Solar's research and development (R&D) teams. In addition to enabling bifacial energy gain, it allows infrared wavelengths of light to pass through rather than be absorbed as heat. It is expected to lower the operational temperature of the bifacial module and result in a higher specific energy yield.
"This module combines the quality, sustainability, reliability and long-term performance of our Series 6 Plus platform with our first increment of bifaciality," says Pat Buehler, chief product officer, First Solar. "Once commercialized, we expect Series 6 Plus Bifacial to represent the first real alternative to crystalline silicon-based bifacial technology, effectively combining bifaciality with the industry's best warranted degradation rate, CdTe thin film's ability to deliver more energy per nameplate watt, best-in-class reliability and durability and innovative module design."
Series 6 Plus monofacial module features an industry-best 0.3 percent warranted degradation rate, superior temperature coefficient, spectral response, and shading behavior, and an anti-reflective coating to enhance energy production. Moreover, unlike crystalline silicon panels, First Solar's Series 6 Plus module does not experience losses from Light Induced Degradation and Light and elevated Temperature Induced Degradation. The module is manufactured under one roof with 100% traceable quality assurance, exceeding International Electrotechnical Commission standards in high temperature, high humidity, and extreme desert and coastal applications.
First Solar is in the midst of constructing a new R&D innovation center in Perrysburg, Ohio. Representing an investment of approximately $370 million, the facility is believed to be the first of its scale in the Western Hemisphere and is expected to accelerate the development and production of advanced thin film PV.
Scheduled to be completed in 2024, the R&D center will be located near First Solar's existing Perrysburg manufacturing facility, covering an area of approximately 1.3 million square feet. It will feature a high-tech pilot manufacturing line allowing for the production of full sized prototypes of thin film and tandem PV modules.