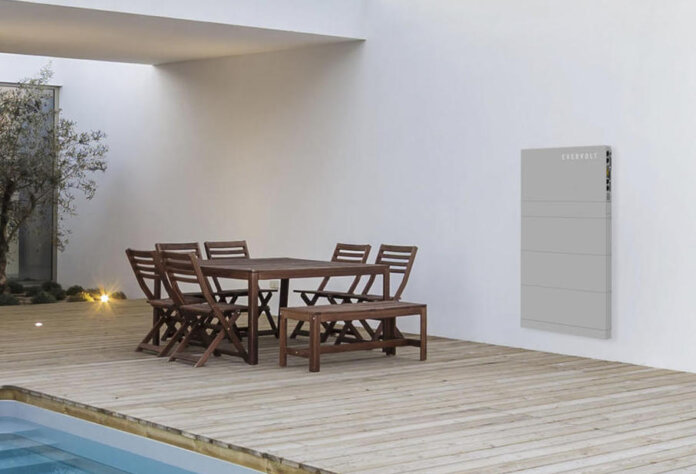 Panasonic Corp. of North America is releasing a new generation of the EVERVOLT Home Battery System: a modular residential storage system that supports both DC and AC coupling, making it a versatile solution for both new and existing solar installations.
This fully integrated energy storage solution combines a hybrid inverter, lithium-ion battery and new EVERVOLT SmartBox – an all-in-one home energy management device. Compact and sleek, this system can be installed indoors or outdoors, mounted to either the floor or wall.
The new EVERVOLT Home Battery System offers maximum 18 kWh lithium-ion battery capacity, allowing homeowners to store excess solar power for power outages. Up to four EVERVOLT Home Batteries can be stacked to a single EVERVOLT SmartBox to achieve up to 30 kW of power and 72 kWh of usable energy, providing maximum power and meeting even the heaviest demands.
"With the increased focus on clean energy, the EVERVOLT Home Battery System provides homeowners with an enhanced solution for energy management," says Mukesh Sethi, director, solar and energy storage, Panasonic Eco Systems North America, a division of Panasonic Corp. of North America.
Additional features of the new EVERVOLT Home Battery System include:
Up to 15,200 W of solar modules can be connected to three maximum power point trackers for higher yields and flexible design.
Up to 7.6 kW of continuous backup power in a single EVERVOLT Home Battery System.
Multiple operating modes, including back-up mode, self-use mode, time-of-use mode
and custom modes which can be set through the mobile app.
Wi-Fi monitoring system with an easy-to-use app.
UL9540A unit level thermal runaway certification.
Black-start functionality to restart your system with solar power after a long outage.
Compatible with generators of up to 125A for long power outages.
Complete 12-year product warranty.
Homeowners also have peace of mind thanks to the Panasonic EVERVOLT Battery certification program, which is designed so homeowners receive high-quality installations. This certification ensures that skilled installers are fully trained on EVERVOLT technology, enabling them to provide reliable and efficient work.