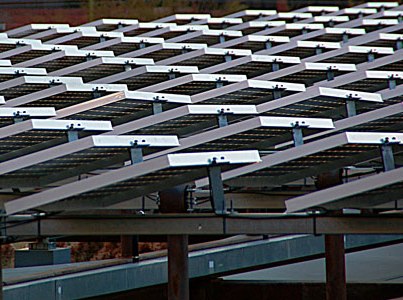 Vikram Solar, Phalanx Impact Partners and Das & Co. have formed a new United States joint venture and majority U.S.-owned and operated company – VSK Energy LLC. The partnership plans to invest up to $1.5 billion to develop a vertically integrated solar manufacturing operation in the U.S.
With two planned projects, VSK brings Vikram Solar's 17 years of solar manufacturing experience to the U.S. with financial support from sustainability-focused private equity firm Phalanx Impact Partners and Das & Co.'s extensive network and expertise in the solar industry in the U.S., India and emerging markets.
As part of its planned investment, VSK Energy is dedicated to developing a resilient American solar panel and equipment supply chain and reducing U.S. dependence on foreign suppliers who currently dominate the solar market.
The first phase consists of a $250 million outlay to develop an American solar photovoltaic (PV) module manufacturing facility in a recently completed building, owned by Mortenson Properties and Hyde Development, in Brighton, Colo.
The new factory is expected to create more than 900 direct jobs with an average salary of more than $70,000 and over 200 construction jobs. VSK Energy expects the facility to commence operations in 2024 with an initial capacity of 2 GW in solar PV modules and planned expansion of up to 4 GW.
The second phase of investment would complete VSK's vertical integration of the solar manufacturing process. VSK will develop a factory in a southern U.S. state to produce solar ingots, cells and wafers with a planned annual capacity of 4 GW.
VSK intends to invest up to $1.25 billion in the new factory, which is expected to commence operations in 2025 following the evaluation and finalization of available federal, state, regional and local incentives for the project. The new factory is expected to create over 1,500 direct jobs and over 1,000 construction jobs.
Mortenson, a solar engineering, procurement, construction and commercial contracting firm, will oversee the engineering and construction of both phases of VSK Energy's planned investment. Mortenson has nearly 70 years of experience building large, complex facilities and has been in the renewable energy space for over 25 years. The company has has installed solar projects across 17 states in the U.S.
"This investment is more than a financial commitment; it's a testament to our belief in the transformative power of sustainable technologies and the solar industry," says Alex Hung, partner and co-founder of Phalanx Impact Partners. "With this VSK project we are not only helping to shape the clean energy future of the United States, but also positively influencing the communities where these facilities will operate."
Law firm Dentons represented Vikram Solar, McDermott Will & Emery represented Phalanx Impact Partners, and Reed Smith represented Das & Co. with the joint venture formation for this transaction.