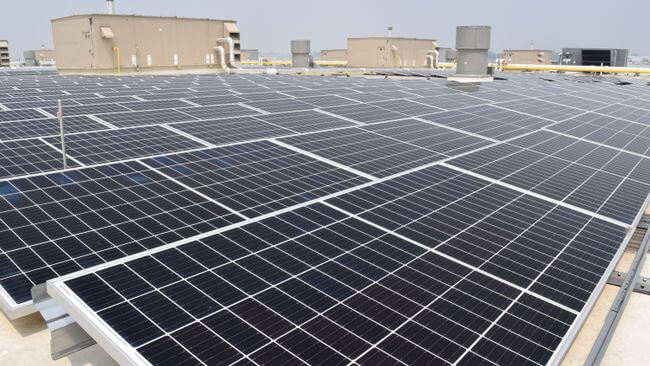 Duke Energy customers in Northern Kentucky are benefiting from additional clean, renewable solar energy thanks to a new utility-scale solar project.
Kentucky's largest rooftop solar array – over 5,600 photovoltaic panels – is now generating power for area homes and businesses. The array is located on the roof of the 800,000-square-foot Amazon Air Hub, which is adjacent to the Cincinnati/Northern Kentucky International Airport. This Duke Energy facility will feed up to 2 MW of solar power directly onto the electric distribution grid, energizing approximately 400 homes and businesses in the area.
Duke Energy Kentucky is making cost-effective incremental additions to its existing electric generation to support growth across the region and ensure Northern Kentucky customers benefit from clean, affordable and reliable energy for many years to come.
This new solar project is a joint partnership between Amazon and Duke Energy, aligning with both companies' renewable energy goals. The location on Amazon's Air Hub is ideal for multiple reasons, including a substantial and accessible flat roof, which receives optimal sunlight, and it is near the infrastructure needed to feed the solar energy onto the distribution grid and then to nearby customers.
"We built Amazon's Air Hub with sustainability in mind," says Chris Roe, Amazon director of energy and sustainable operations. "We're excited to host this solar project on our rooftop in collaboration with Duke Energy and help provide a new source of clean electricity to the local community."
Duke Energy Ohio/Kentucky, a subsidiary of North Carolina-based Duke Energy, provides electric service to 900,000 residential, commercial and industrial customers in a 3,000-square-mile service area in Ohio and Kentucky.