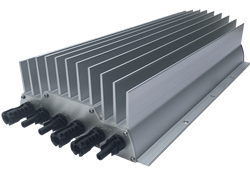 Ampt, a company providing DC optimizers for large-scale photovoltaic (PV) systems, is working with Edison Power Co. Ltd. to integrate Ampt String Optimizers into a solar+storage microgrid project being developed by Tocoo Inc. for the utility Okinawa Electric Power Company in Miyakojima, Japan. The project supports Miyako Island's goal to source 55% of the region's electricity from renewable energy by 2030.
Edison Power is using Ampt technology to enable DC-coupled architecture, which marks the first project of this kind for the utility. Ampt String Optimizers provide the critical link between the PV array, battery system and inverter to manage intermittency, control frequency and achieve 2% or less power fluctuation of rated output per minute, as required by the Okinawa Power Company and local legislation.
Edison Power is deploying Ampt String Optimizers with lithium-iron-phosphate batteries from Gotion and string inverters from Huawei. The microgrid system consists of 1,200 kWp of solar linked through optimizers to 1,700 kWh of batteries and 700 kW of inverters.
Ampt String Optimizers are DC/DC converters that perform maximum power point tracking (MPPT) on each string of PV modules to increase the lifetime performance of the system. They are also inverter and battery-technology independent.
"We were seeking a power solution that meets our high standards for system responsiveness and performance, and we were impressed with Ampt's expertise and global footprint of successful DC-coupled installations," says Mr. Nakamura, general manager of Edison Power's storage battery business. "With Ampt String Optimizers, we are able to significantly improve round-trip energy efficiency while saving on capital costs compared to other solutions."