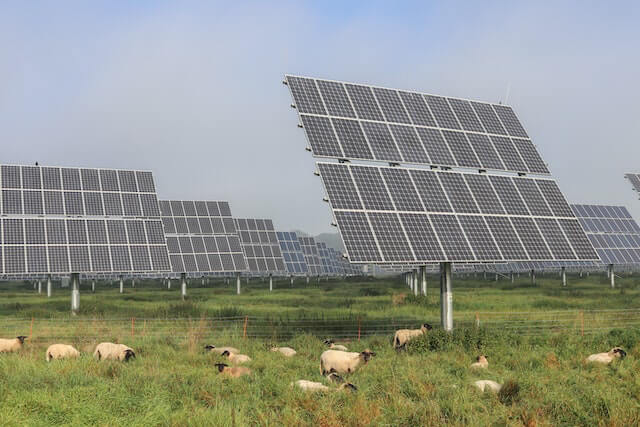 National Grid, an electricity, natural gas, and clean energy delivery company serving New York and Massachusetts, recently launched its first-ever solar grazing pilot at two company-owned solar sites in Attleboro, Mass.
The pilot – in partnership with Solar Shepherd, a Massachusetts-based company founded by a third-generation rancher – combines renewable energy and agriculture by introducing sheep to feed on the plentiful grasses that grow around ground-mounted solar panels, providing a sustainable form of vegetation control.
The practice of harnessing grazing livestock as natural groundskeepers is a variation of agrivoltaics, described by the U.S. Department of Agriculture as the use of land for both agriculture and solar photovoltaic energy generation. The pilot launched in May 2023 with an aim to replace traditional landscaping methods with a cleaner solution. It also adds an additional purpose to large-scale solar site locations, supporting agricultural production and local Massachusetts ranchers as they adapt and advance their businesses.
"Grazing sheep reduce the need for herbicides, pesticides and gas-powered lawnmowers, cutting down on carbon emissions and noise pollution at solar sites and the surrounding community," says Arnaldo Arnal, a lead product developer at National Grid. "Over time, the sheep's natural fertilizer has the potential to boost soil biodiversity and enhance carbon sequestration on company land."
National Grid currently owns and operates 30 solar sites in Massachusetts, including its solar grazing locations in Attleboro, which collectively comprise 5,000 panels spanning 10 acres of land. The two grazing sites inject a total of 1600 kW into the grid, providing load relief to a nearby substation during peak summer days. National Grid expects to introduce grazing sheep to other sites as its solar portfolio expands.
Photo by Vincent Delsuc on Pexels.