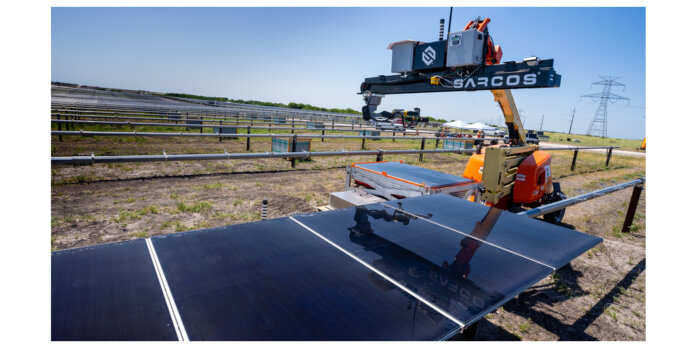 Sarcos Technology and Robotics Corp., a designer, developer and manufacturer of advanced robotic systems, solutions, and software, and Blattner Co., a provider and installer of renewable energy, have entered into a collaboration agreement. The arrangement focuses on developing and refining Sarcos' autonomous mobile robotic system in order to optimize employee safety and enhance efficiency of photovoltaic (PV) module installation in utility-scale solar projects.
"Like many industries, the solar construction industry is experiencing significant worker shortages post-COVID and has not yet recovered," says Laura Peterson, interim president and CEO, Sarcos. "Our autonomous robotic solar construction system is expected to ease these workforce challenges."
According to the Solar Energy Industries Association (SEIA), annual solar installations will need to increase by 60% through 2030 in order to meet climate targets. Nearly 800,000 new solar workers would be needed to meet this goal. Robotics holds the promise of mitigating labor pressures in this market while improving on-the-job safety.
This dual effort will build upon the Sarcos Outdoor Autonomous Manipulation of Photovoltaic Panels (O-AMPP) project, which is funded by the U.S. Department of Energy and aims to streamline the process of solar field construction.
The O-AMPP robotic system is being designed and developed to deliver, detect, lift and place PV modules in the field with the goals of:
Improving worker safety and productivity: A smaller team will be able to install modules at a substantially higher rate while optimizing safety.
Improving construction speed: Often the most labor-intensive task, installation of PV modules will be done more quickly.
Improving installation quality: Robotic handling of modules will ensure consistent supporting and positioning as they're picked up and placed, reducing module breakage.
Sarcos and Blattner are collaborating to evaluate and further refine the technology, functionality and safety of this system through a series of field trials. Blattner will provide funding, expertise and facilities for the research. The companies intend to test the system through varying environmental conditions across different sites in preparation for Sarcos' commercial launch of the system, currently estimated for late 2024.