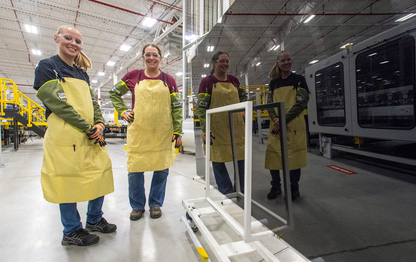 The Tennessee Valley Authority (TVA) has secured 279 MW DC of advanced thin-film solar panels from First Solar for its planned Lawrence County Solar Project in Lawrence County, Ala., which is expected to begin commercial operation in 2027.
The project reflects TVA's growing emphasis on solar in the region. By 2025 the area is set to become the home of one of the largest fully vertically integrated solar manufacturing facilities in the United States, when First Solar commissions its fourth American factory.
"As America's Solar Company, we're pleased that our technology will power the Lawrence County Solar Project," says Georges Antoun, CCO, First Solar. "As we scale our manufacturing footprint and supply chains, it is vital that the communities we operate in benefit from our creation of jobs, economic value, and clean electricity produced by our solar technology."
Arizona-headquartered First Solar is investing approximately $1.3 billion in expanding its United States manufacturing footprint from over 6.5 GW DC of annual nameplate capacity currently, to approximately 10.9 GW DC by 2026.
In addition to the $1.1 billion being invested in the new 3.5 GW DC Lawrence County facility, the company has also embarked on a $185 million expansion of its existing manufacturing footprint in Ohio. First Solar, the largest solar manufacturer in the Western Hemisphere, also announced an investment of up to $370 million for a dedicated research and development (R&D) innovation center in Perrysburg, Ohio, which is expected to be completed in 2024.
Photo courtesy First Solar Inc.