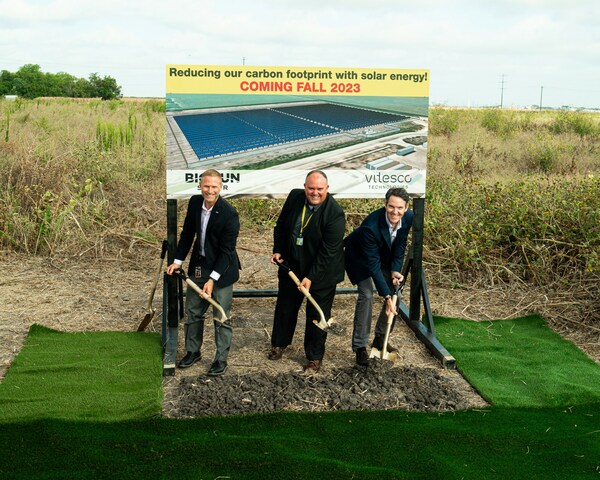 Global automotive supplier Vitesco Technologies, San Antonio-based Big Sun Solar and the Guadalupe Valley Electric Cooperative (GVEC) are jointly developing a solar project in Central Texas, which is one of the state's first three-party power purchase agreements.
Groundbreaking took place in late July and the project is expected to be completed and commissioned by the end of the 2023.
The solar project will be built on 12 acres adjacent to the Vitesco Technologies manufacturing facility in Seguin. Through the power purchase agreement, Big Sun Solar will build, own and operate the project, and Vitesco Technologies will purchase from GVEC the electricity generated to offset its energy consumption.
The 2.6 MW DC project will generate roughly 4,800 MWh per year through 4,800 solar panels, which use trackers to follow the sun's changing position throughout the day. That will meet about 13% of Vitesco Technologies' annual energy consumption at the Seguin facility. This is enough energy to power 330 Texas homes (avg. 1,800 square feet) yearly.
By 2030, Vitesco Technologies wants to achieve climate neutrality for its entire production and internal business activities. The company has also set itself the ambitious goal of making its entire value chain climate neutral by 2040 at the latest. This also includes all business activities outside the company's own processes – from the extraction of raw materials to the use of products.
"Converting the transportation sector to climate neutral solutions is daunting but also achievable," says Big Sun Solar CEO Robert Miggins. "We're proud and excited to work with companies such as Vitesco Technologies who are taking the lead."
Vitesco Technologies, which has been an important part of Seguin's economy for more than 50 years, manufactures state-of-the-art powertrain technologies for sustainable mobility. Its 1,700 employees represent roughly 5% of the Seguin population. This project marks the global company's largest solar project in North America, having initiated similar programs near its manufacturing locations in Mexico earlier this year.