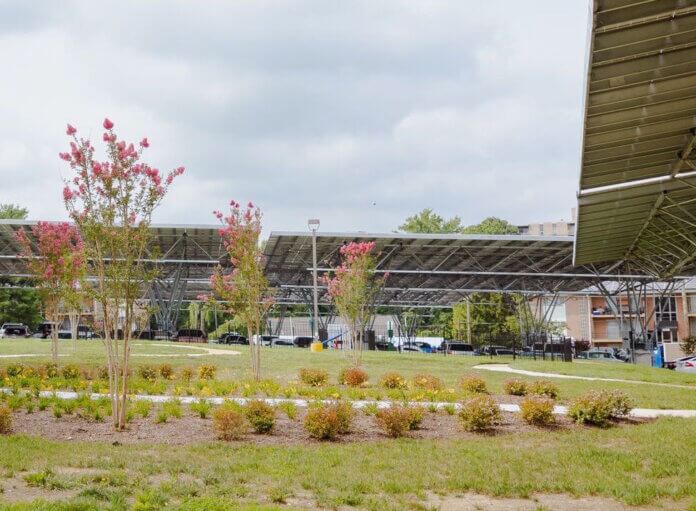 Maryland-based Standard Solar, a developer, funder, owner and operator of commercial and community solar assets and a subsidiary of Brookfield Renewable Partners, has acquired a community solar project in Forestville, Md. from New Columbia Solar.
Located at FCP's Holly Spring Meadows apartment community, the 800-kW carport array and a 921-kW rooftop array project, along with 24 other projects owned by Standard Solar in the state, will help Maryland achieve part of its Renewable Portfolio Standard of generating 50% of its energy from renewable sources by 2030.
The solar arrays at Holly Spring Meadows, a 224-apartment unit community, will generate a combined 2,120 MWh of clean energy annually, which is equivalent to the annual electricity use of nearly 300 homes. Approximately 50% of the energy produced on-site will be allocated to individuals of low- to moderate-income households.
"It means a lot when you acquire a project in your backyard that not only promotes community involvement, fostering a sense of unity, but also brings the benefits of solar power to a broader audience, and that will also help your home state reach its renewable energy goals," says Mike Streams, chief development officer for Standard Solar.
The Holly Spring Meadows community solar project stands as a great example of how solar energy can truly make a difference. By allowing individuals to subscribe to a shared solar array, this project enables access to affordable energy for those who may not have the resources or suitable rooftops for installing solar panels.
The Holly Spring Meadows project is complete and operating. Subscriptions are being managed by Arcadia.