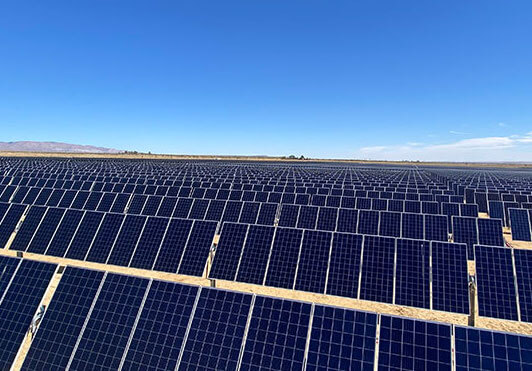 Xcel Energy is issuing one of northwest Wisconsin's largest-ever calls for clean energy projects. The goal is to add significant carbon-free energy for the company's Upper Midwest customers while replacing a coal-fired plant on the Minnesota-Wisconsin border.
Developers are invited to submit proposals for approximately 650 MW of new solar-specific projects or ones that combine solar with energy storage, such as batteries.
The request calls for projects located in Wisconsin with commercial operation dates from 2027 to 2029, helping to replace the capacity of the Allen S. King plant, a coal-fired plant in Oak Park Heights, Minn. that is scheduled to retire in 2028. Xcel Energy plans to reuse existing grid connections at the King plant site, allowing customers throughout the Upper Midwest to benefit from the new energy resources.
The 650 MW of new generation is enough electricity to power approximately 135,000 homes each year on average. Solar energy does not have any fuel costs and contributes to a diversified energy mix, which helps protect against rising fuel prices.
Under the company's Upper Midwest Energy Plan, more than 80% of customers' electricity in the region would be carbon-free by the end of the decade, with more than half coming from wind and solar. These projects will help move those plans forward. The plan calls for retiring all the company's coal plants by 2030, dramatically increasing wind and solar energy, and ensuring reliable, affordable energy.
Xcel Energy has significant experience with new clean-energy generation. In April, the company broke ground on the Upper Midwest's largest solar project near Becker, Minn., which will replace much of the generation from the first Sherco coal unit that is scheduled to retire later this year.
Xcel Energy is committed to a smooth transition for its employees at the King plant, who have played a vital role in powering the region for decades. The company has transitioned other coal plants without layoffs and expects to accomplish this again at the King facility. Xcel Energy is working with the state of Minnesota and local communities to explore potential future uses of the King plant site after its retirement in 2028.
Xcel Energy's request welcomes a range of project types, development stages and sizes. More information about the request for proposals, including a detailed schedule and responses to all submitted questions will be periodically posted on the Xcel Energy website.