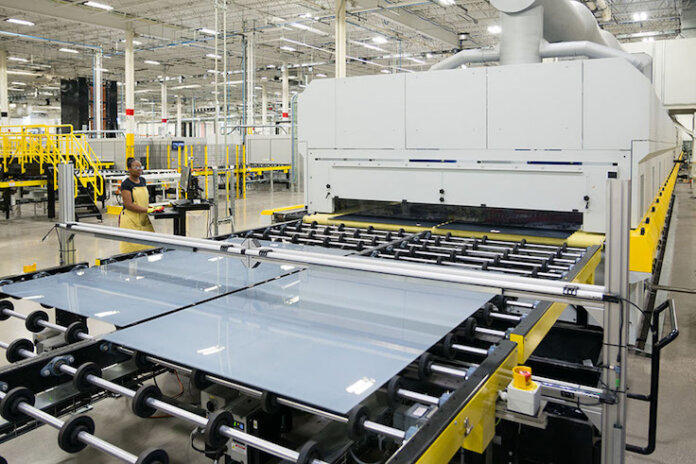 First Solar Inc. has released its 2023 Sustainability Report and established a new industry first benchmark for transparency by publicly disclosing details of onsite third-party social audits conducted across its global manufacturing footprint. First Solar is also believed to be the first among the world's largest solar manufacturers to have conducted third-party social audits across its operational global manufacturing footprint.
First Solar, the only major solar manufacturer that is a member of the Responsible Business Alliance (RBA), conducted three onsite third-party RBA Validated Assessment Program (VAP) audits at its manufacturing facilities in the United States, Vietnam and Malaysia. The company's U.S. and Vietnam operations achieved platinum status, the highest possible rating.
Audits the Malaysia facility uncovered four service providers that fell short of First Solar's standards. Details of the findings and corrective actions are included in the company's 2023 Sustainability Report. The Malaysia facility is expected to have its VAP closure audit in the fourth quarter of 2023. Credible third-party social audits do not rubber-stamp compliance but identify and help remedy existing and potential issues to improve the lives of workers across the supply chain.
The report also highlights that First Solar's new factory in Tamil Nadu, India, which is scheduled to begin commercial production in the second half of 2023, is expected to be the world's first net-zero water withdrawal solar manufacturing facility. The facility, located in a region of high baseline water stress, is designed to minimize its impact on local water resources and will rely entirely on tertiary treated reverse osmosis water from the city's sewage treatment plant and have zero wastewater discharge.
"The solar industry will anchor the global transition to a sustainable energy future, and we believe that it must do so responsibly," says Mark Widmar, CEO, First Solar. "Quite simply, our industry's work to power the energy transition and enable the fight against climate change does not serve as credits to offset its social and human rights obligations."