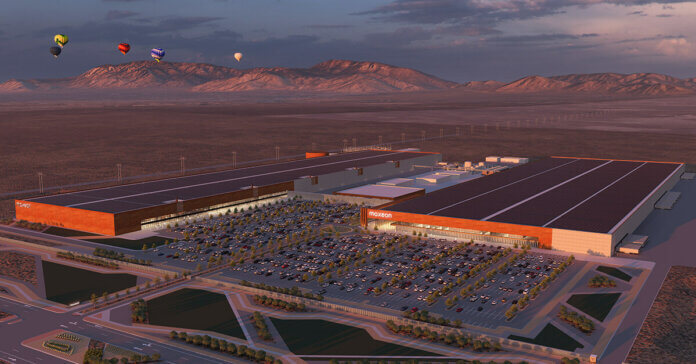 Maxeon Solar Technologies Ltd., a designer and manufacturer of solar panels, has chosen Albuquerque, N.M., as the location for its first United States manufacturing expansion. The new 3 GW facility will be designed to produce latest-generation TOPCon PV-silicon cell technology and the Maxeon's proprietary shingled-cell Performance Line solar.
The new plant will serve both the utility-scale power plant market and distributed generation rooftop applications. The total investment in the project is expected to be more than $1 billion, and is subject to a successful financial close under the U.S. Department of Energy's (DOE) Title 17 Clean Energy Financing Program.
Maxeon is currently in the due diligence stage of its loan application and site selection is an important milestone in completing this process with DOE's Loan Programs Office. DOE's invitation into the due diligence and term sheet negotiation process is not an assurance that DOE will issue a loan guarantee, nor that the terms and conditions of a loan guarantee will align with terms proposed by the applicant.
The Maxeon plant is expected to be the first large-scale PV cell and panel manufacturer in New Mexico, and its planned capacity is approximately double the size of the largest silicon solar manufacturing facility currently operating in the U.S. Maxeon expects to begin construction in the first quarter of 2024, with factory ramp-up to commence in 2025.
Maxeon has selected a 160-acre site located in the community of Mesa Del Sol, and is designing the complex to include solar cell fabrication, panel assembly, a warehouse and administrative offices. Once the new facility is complete, Maxeon estimates it will create up to 1,800 jobs, including highly skilled manufacturing and engineering positions, and produce millions of solar panels each year for the U.S. market. The New Mexico facility expands Maxeon's global manufacturing footprint, which currently includes plants in Mexico, Malaysia and the Philippines.
Due to strong customer demand and the planned availability of sufficient infrastructure at the Mesa Del Sol site, Maxeon is currently evaluating plans to upsize the scale of its U.S. manufacturing operation by approximately 50% to a nameplate capacity of 4.5 GW. A final decision regarding plant capacity is expected later this year.
"Maxeon's facility will be the second major clean energy manufacturing facility to open in New Mexico since President Biden signed the Inflation Reduction Act," says Sen. Martin Heinrich (D-N.M.). "Together, we're unleashing our clean energy potential and creating hundreds of high-quality jobs for New Mexicans. The best part: We're only just getting started."