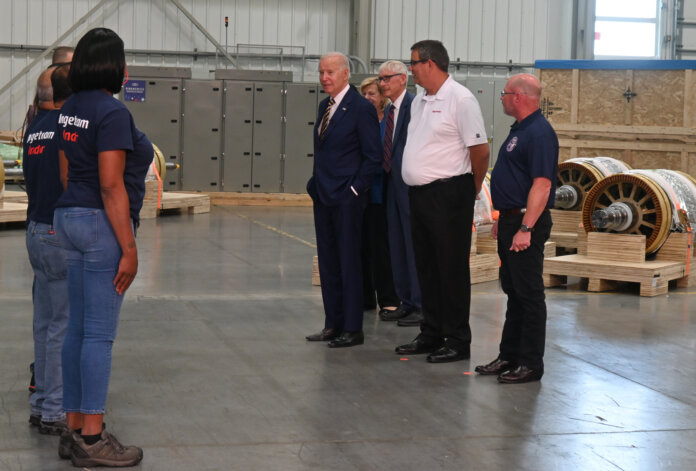 During a trip to Milwaukee this week, President Joe Biden stopped at the Ingeteam plant, where he took a tour and spoke briefly. Spain-based Ingeteam, an international company specializing in energy conversion, conducts business in 21 countries. On hand to welcome President Biden were Mark Obradovich, Ingeteam's director in the U.S., along with other company officials.
Since the opening of Ingeteam's Milwaukee plant in 2008, the company has manufactured more than 4,000 generators for the wind energy sector and has supplied 2.5 GW of solar and energy storage inverters for the U.S. market. An additional 1.1 GW of awarded contracts for solar and energy storage sector are in execution stages and scheduled to be installed by the end of the first quarter of 2024, totaling over 3.6 GW of utility-scale installed capacity.
Ingeteam expects wind turbine generator orders in the U.S. to double during the next year thanks to incentives from the Inflation Reduction Act, which President Biden signed into law one year ago. The passage of the legislation has begun to show a positive and significant impact on the potential growth of the solar, energy storage and electric vehicle chargers' industry in the U.S. Ingeteam is well-positioned to meet the increasing market demand, which will result in hiring more U.S. workers for high-paying jobs.