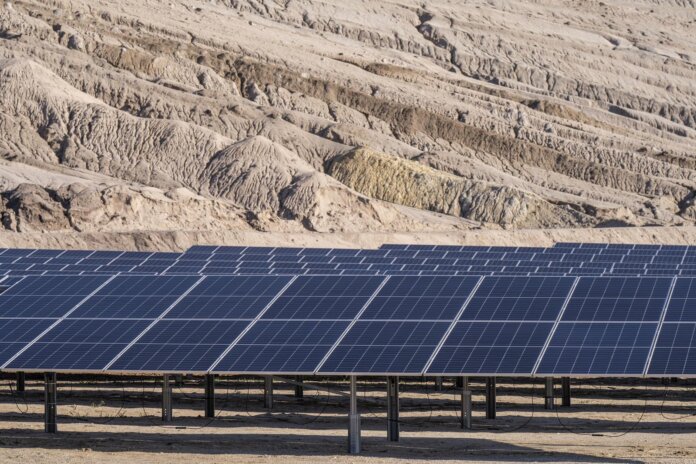 RWE continues to move full speed ahead on green electricity production in Western Germany's Rhenish mining district. At the Hambach lignite opencast mine, construction has begun on a photovoltaics plant with integrated battery storage system. There RWE will install some 22,000 solar modules, enough to supply more than 3,100 households with electricity.
RWE is planning to operate the solar projects at the Hambach opencast mine in collaboration with Neuland Hambach GmbH. The company is coordinating the structural change around the opencast mine and is playing a key role in shaping it. Accordingly, the solar-storage project, which is part of the inter-municipal framework plan for re-landscaping the mine and for its intermediate use, has been given the name RWE Neuland Solar Farm.
The RWE Neuland Solar Farm is similar in size to the RWE Indeland Solar Farm at the Inden opencast mine, which has 26,500 solar modules and was inaugurated recently.
Katja Wünschel, CEO RWE Renewables Europe & Australia says: "This is already the fourth large solar project we are launching in the Rhenish mining district within a very short period of time, again in combination with a storage system. We are stepping up the pace, in particular in our home state of North Rhine-Westphalia, and we are implementing every wind and solar project possible."
After completion, currently planned for the end of this year, the RWE Neuland Solar Farm will have a capacity of 8.4 MW AC. Bifacial modules, which are photosensitive on both sides have been installed. The advantage of these is that, in addition to sunlight hitting the panels directly, they can also utilize light reflected by the ground to the back of the modules. The battery storage system is designed for a two-hour charging and supply cycle of over 8 MW hours, functioning as a buffer between generation and grid.
The new plant is being built next to the RWE Neuland 1 Solar Farm with a planned capacity of 17.6 MW AC. Subject to planning permission going through quickly, installation could commence as early as this year.