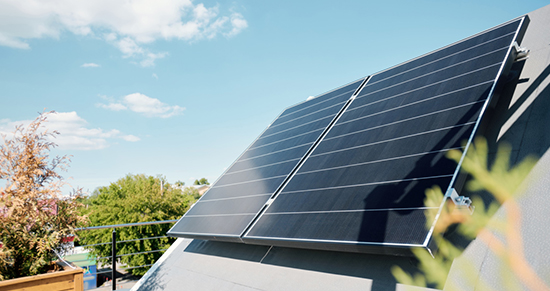 As record high temperatures scorch the West and continue to strain the power grid, San Diego Gas & Electric (SDG&E) is piloting a new clean tech innovation: a virtual power plant (a VPP), which will reduce energy demand and put electricity back on the grid during peak hours – all through leveraging the capabilities of customer-owned smart thermostats, rooftop solar, energy storage and other connected resources such as water pumps.
Unlike a traditional power plant, a VPP does not rely on a physical facility to generate electricity for the grid to distribute to homes and businesses. Instead, it uses advanced software to aggregate and coordinate the functions of a collection of small-scale, decentralized resources located at customers' homes and businesses to meet grid needs.
A VPP network can comprise a wide range of devices and resources – everything from home appliances such as electric vehicles and chargers to HVAC equipment and solar-plus-battery energy storage systems. Software programs run VPPs in concert with grid operations to dispatch communications signals to devices in the VPP network to either power down or discharge electricity from existing resources back to the grid.
"When hundreds or thousands of businesses or homes are connected to a VPP and their resources are flexibly managed to charge or discharge electrons, they can help keep the lights on during hot summer days," says SDG&E CCO Miguel Romero.
In August, as temperatures soared, SDG&E deployed its VPP pilot three times to support the grid during peak demand periods. Connected devices functioned as expected. Because of how well the pilot project has performed, SDG&E is considering expanding the program to other areas in the future.
SDG&E's VPP pilot is different from most other VPPs because of the diversity of devices it has integrated into a centralized system. Most VPPs typically involve only one brand or one type of device (e.g., battery energy storage). SDG&E's VPP involves multiple brands and types of devices including smart thermostats, well water controllers and battery energy storage systems. The pilot is taking place in Shelter Valley, a remote community in eastern San Diego County about an hour and a half drive from central San Diego.
Participants in the pilot include single-family homes with existing rooftop solar and the Shelter Valley Community Center, which serves as a resource center for the community during emergencies. The center received free installation of two batteries onsite.
"We can use this equipment to maintain a place for people if the power goes off and keep the center cool and hope we can provide food if needed for our community residents," said Shelter Valley Community Center Board President Steve Bassett, who believes the project will better prepare the community for emergencies.
When VPP participants receive a message about the potential for their devices to be turned off or discharge electricity to support the grid, they can opt out for certain devices (except battery storage). So far, the opt-out rate has been very low.
The pilot first came online last December and will run through December 2023. Since the start of the pilot, the VPP has been tested through 17 simulated demand response events.