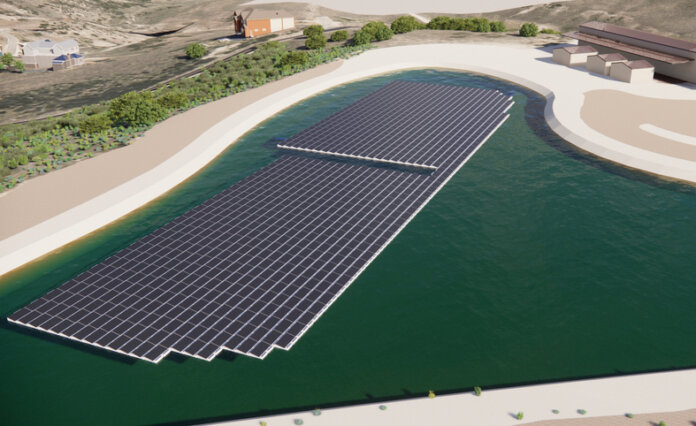 Mountain Regional Water Special Service District, a special service district of the state of Utah that serves drinking water to the Snyderville Basin area of Park City, Utah, has awarded Ameresco Inc., a leading cleantech integrator specializing in energy efficiency and renewable energy, a contract to design and install a floating solar photovoltaic array site.
This award precedes the district's selection for a grant for $400,000 from Rocky Mountain Power's Blue Sky program for the district's Signal Hill Water Treatment Plant. The array will be owned by the district and will be placed on the treatment plant's holding pond and provide electricity to power the water treatment plant.
Ameresco's project design involves the deployment of a 589.7 KW DC capacity floating solar array. The system will be integrated behind the meter with the Rocky Mountain Power utility, allowing it to serve electricity directly to the treatment plant.
Rocky Mountain Power's Blue Sky program awarded this project to the Mountain Regional Water Service District as one of a dozen community-based renewable energy projects awarded in 2023. Blue Sky is an opt-in program that gives Rocky Mountain Power customers the option to match all or part of their energy use with renewable energy. Since 2006, Blue Sky's 56,000 participants have helped fund over 200 new, community-based renewable energy projects in Utah, Idaho and Wyoming communities. The systems include solar, wind, geothermal and other forms of renewable energy.
Completion of this project is designed to offset 92% of the energy consumed from the grid and reduce the district's energy costs by 80%. The new floating solar array system will also produce 887,712 KWh of solar energy annually, significantly contributing to the local power supply.
"Traditional ground or rooftop solar wasn't an option for us at this facility, but this innovative floating solar installation makes use of an untapped resource," says Chris Braun, Mountain Regional CTO. "This is one more piece of the puzzle for us get to a net-zero energy goal as we strive to be responsible stewards for the community and the environment. "
Construction is anticipated to begin in June 2024 and be completed by September 2024.