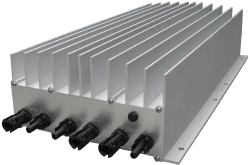 Ampt, a DC optimizer company focusing on large-scale photovoltaic (PV) systems, has released its i50 String Optimizer – the next generation of its power management solution. The i50 is designed to lower costs and improve performance of utility-scale PV or PV-plus-storage projects. The i50 String Optimizer helps solar power plant developers, owners and operators increase clean energy generation and project ROI while improving grid resilience and reliability.
The i50 String Optimizer builds on the technology of Ampt's i32 String Optimizer to deliver higher power and design flexibility while maintaining the highly accredited i32 capabilities. Notable recent projects with Ampt optimizers include a 380 MW PV-plus-storage plant in the California Independent System Operator (CAISO) power grid market, and 390 MW of String Optimizers to Chile's largest solar-plus-storage plant.
Ampt String Optimizers are DC/DC converters that deliver full available power from the PV array at a high and fixed voltage. The higher voltage allows the entire system to operate at a lower current for a given power to reduce the cost and quantity of electrical components such as cables, energy storage systems, inverters and transformers.
The i50 optimizer provides further cost savings by enabling fewer solar trackers per MW in the system. Ampt's predictable DC bus voltage also simplifies battery and inverter controls to improve grid responsiveness of the power plant. In addition, the optimizers perform maximum power point tracking (MPPT) on each input to maximize lifetime production and include wireless monitoring to improve O&M.
The i50 optimizer achieves substantial power density with output power up to 70 kW, which allows a single optimizer to be deployed on each solar tracker. By accommodating higher input currents, paralleled strings of PV modules and flexible string lengths, system designers can maximize the utilization of each solar tracker without the typical string sizing constraints in systems without Ampt.
Well-suited for diverse applications, the i50 features enhanced capabilities for utility-scale solar power plants that use high-power PV modules and solar trackers and opens new opportunities for system owners and developers to lower the total cost of PV power plants.